Ok, I am participating in NaBloWriMo (a post a day for the month of October), and because I spent most of my day planning a lot of posts for the rest of the month, I neglected today's. Thank goodness for blog carnivals like Friday Fill-Ins.
I had considered posting pictures of my accomplishments tonight, after spending some extra time giving my youngest his first at-home haircut (we both escaped unscathed). But I was out of time to post pictures for my blog. I was proud of how his hair looks, considering I didn't set out to give him an all-over cut, but the pictures will have to wait for another day.
So, without further adieu, here is this week's
Friday Fill-Ins: #195
.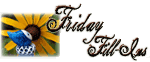 1. Wow, it's
quiet in my house tonight
.
2.
The classical music playing softly on the piano in the background is
beautiful.
3. My favorite way to start a day is
coffee, always coffee.
4.
I handed the children their treat bags
and he walked in the door holding a pumpkin.
5. I look out my window and see
lizards (still)!
6.
My progressing age
is what I've been thinking about lately.
7. And as for the weekend, tonight I'm looking forward to
watching a movie
, tomorrow my plans include
laundry and getting Halloween costumes for the kids
and Sunday, I want to
take a nap
!